"Dr. Bill" Klausmeyer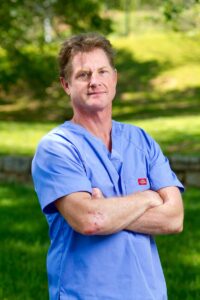 Dr. Klausmeyer is a 1984 graduate of the University of Michigan School Of Dentistry. He graduated in the top 20 of his class. He was Vice President of his junior class and earned the Thomas Vedder award as a senior. He successfully completed the Florida Board in December of 1984 and then started a new practice in Port St. Lucie. In May 2008, his family relocated to Georgia, where "Dr. Bill" passed the CRDTS exam and received his Georgia license. He came to Canton in 2012 and in 2019 married his sweetheart, Susan.
Dr. Bill is known as the "Gentle Dentist." He recognizes that many people see a dentist reluctantly, fearfully, or sometimes not at all. Dr. Bill specializes in relaxation dentistry (using medication) and is constantly searching for gentle, cost-effective treatment alternatives. He is always learning – over the course of his career, Dr. Bill has completed countless hours of continued education. 
Born in Highland Park, Illinois, Dr. Bill grew up in Michigan. He is the father of four sons and enjoys the outdoors, including hiking and biking and is a practitioner of ashtanga yoga.